Thoracic cancer
---
Thoracic cancer is a type of cancer that affects the organs, gland and other structures in the thoracic cavity or chest wall cavity. There are four main types of thoracic cancer, they are:
Thymus Cancer
Pleural Cancer
Lung cancer is the most common type of thoracic cancer, which is the leading cause of cancer death in both men and women.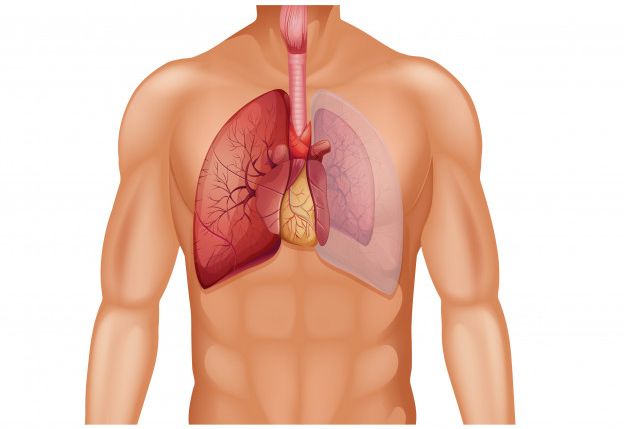 Causes and Risk factors
The exact cause of thoracic cancer is unknown, but you may have a greater chance of developing thoracic cancer if any of your family members had it. Certain risk factors like smoking and lifestyle factors also play an important role in the development of thoracic cancer.
Symptoms
The symptoms of thoracic cancer depends on the tissue it affects. In the early stages it often has no symptoms, as the disease progresses the patient may experience the following symptoms:
Shortness of breath
Persistent cough or wheezing
Coughing up bloody or rust-colored mucus
Chest pain that worsens while, breathing, coughing or laughing
Loss of appetite
Unintentional weight loss
Vomiting, indigestion or heartburn
Diagnosis
The following are the tests you have to do during the diagnosis of thoracic cancer:
Bronchoscopy : is used to diagnose lung conditions like tumor, to find the extent of airway blockage and to collect a tissue sample for analysis.
CT guided Fine Needle Aspiration (FNA): It is an alternative for more invasive procedures such as lung biopsy (thoracotomy)
Thoracoscopy : It is done to diagnose and stage cancers within the thoracic cavity like lung cancer, mesothelioma and esophageal cancer
Chest X-ray : is taken to find out visible mass or nodule in patients with lung cancer, this mass will look like a white spot on your lungs
PET Scan : PET is a non-invasive diagnostic and prognostic tool that measures tumor metabolism
Endo-Bronchial Ultrasound : EBUS is a diagnostic and staging procedure for lung cancer and other types of lymph nodes in the chest.
Thoracic Cancer Treatment
The treatment for thoracic cancer depends on the tissue which it is affected and the stage of cancer. The common treatment option for thoracic cancer include:
Thoracic surgery: It Is done to access and repair the lungs or Chest wall affected by cancer. The surgeon will remove the nodules and tumors to treat the disease
Radiation therapy: Radiation therapy is done to shrink tumors to relieve symptoms of lung cancer like pain and other problems caused by the spread of cancer to other organs
Thermal ablation: Thermal Ablation is done by inserting heated needles or probes into cancer to destroy the cancer cells. It is done when surgery or radiation therapy are considered unsuitable.
Dr Shivakumar Uppala is one of the best oncologist in India who works in North Bangalore Hospital. He is one of the leading surgical oncologists in Bangalore provides the best treatment for Thoracic Cancer with his wide experience in various cancer treatments with positive results.