Oral cancer
---
Oral cancer or mouth cancer is type of head and neck cancer, which is often treated similar to other types of head and neck cancers. It can occur anywhere in the mouth like, tongue, lips, cheek, gums, salivary gland, in the roof and floor of the mouth and in the tonsils.
Causes
Oral cancer happens when there is an uncontrollable growth of cells in the mouth that invade and cause damage to the surrounding tissue. These accumulated cancer cells forms tumor in the mouth, which may spread to other parts of the head and neck.
Symptoms
During the early stages of oral cancer, there will be no symptoms. The most common symptoms of oral cancer include:
Unexplained bleeding in the mouth
A sore in the lip or mouth that doesn't heal
Painful chewing or swallowing
A lump or thickening in the skin or lining of the mouth
Red or white patches in mouth or lips
Jaw pain or stiffness of jaw
Tongue pain
Sore throat
Mass growing anywhere in mouth
A lump in the neck
Bleeding from mouth
Loosening of teeth without any reason
Hoarse voice
Unexplained numbness or tenderness in any area of the face neck or mouth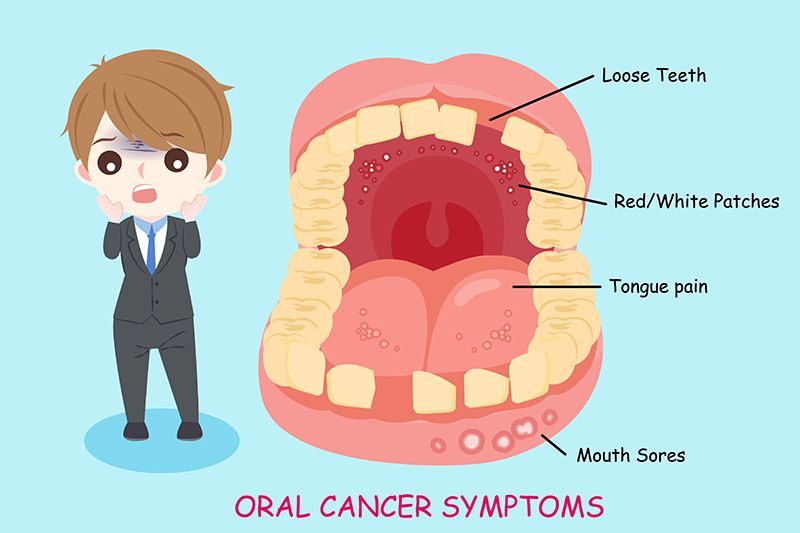 Risk factors
According to the studies, men are twice more likely to develop oral cancer than women. It more commonly occurs in men who are over the age of 50. The following are most common risk factors for the development of oral cancer:
Family history of cancer
Chewing tobacco
Consumption of alcohol
Excessive sun exposure
Weakened immune system
Certain Human Pappilomavirus (HPV) strains increase the risk of developing cancer
Diagnosis of Oral Cancer
If you find any lumps or growth in your mouth, your doctor may perform the following tests:
Physical exam : the doctor will examine your lips and mouth for abnormalities
Brush biopsy or oral tissue biopsy : test to find out the red or white spots in the patients mouth are cancerous or not
An X ray of the chest may be taken to check if the cancer spread to the lungs
CT scan will be taken to see if the cancer spread to oropharynx
MRI scan
Endoscopy
Treatment for Oral Cancer
The treatment of Oral Cancer varies depending upon the size, stage and location of the cancer found during the diagnosis. The following are some of the common treatment options for mouth cancer:
Surgery : To remove the tumor and cancerous lymph nodes
Radiation therapy : aiming radiation beams at the tumor
Chemotherapy : usage of drugs that kill cancer cells
Targeted therapy
Nutrition Therapy
Dr Shiva Kumar is one of the experienced oncology consultant and oral cancer surgeon at North Hospital based in Bangalore. He is a member of Indian association of surgical oncology, who has several years of experience in surgical oncology. With his vast experience he provides the best treatment for Oral Cancer in India, at affordable price.